Organization
| | |
| --- | --- |
| In this Section | |
In 1991 a group of enlightened citizens, led by Charles Sauriol and Dave Money, formed a committee to help manage and restore the natural area at Todmorden Mills. The Todmorden Mills Wildflower Preserve Committee (TMWPC) is a charitable organization, run by a volunteer board, with about 50 members. The mission of the TMWPC is to bring the degraded natural area at Todmorden Mills back to health. Native plants are being used to restore the vegetation communities back to pre-settlement conditions.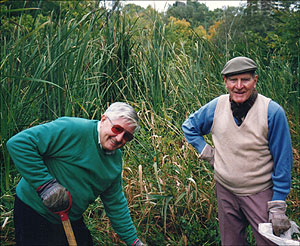 TMWP Founders, Dave Money (L), and Charles Sauriol.
In 1990 the late Charles Sauriol, a well known conservationist, initiated talks with Dave Money, past-president of the Ontario Horticultural Association. The two were interested in bringing native wildflowers such as White Trillium, Jack-in-the-pulpit and Bloodroot back to Todmorden Mills.
Todmorden Mills Wildflower Preserve was established in 1991, and the group was registered as a charitable organization.
Paula Davies, Chair
Heather Matthews, Vice-chair
Pauline Sackin, Treasurer
Paul Beveridge, Director
Glenn Gillespie, Director
Bogna Jaworski, Director
Janice Palmer, Director
Miriam Webster, Director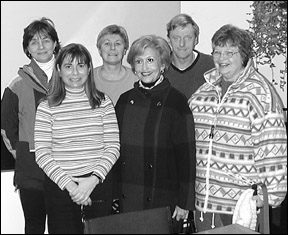 TMWP Board. Back row (from left): Bogna Jaworksi, Heather Matthews, Glenn Gillespie. Front row (from left): Paula Davies, Pauline Sackin, Janice Palmer. Absent: Paul Beveridge and Miriam Webster.
Membership in TMWPC is free. Simply contact us with your name and contact information. Members receive a newsletter two or three times a year, and invites to all our events.
Your donation can help the restoration work in the Preserve. Because we are a charitable organization, donations to the TMWPC are tax-deductible. If you would like to make a donation, please send a cheque or money order to the Treasurer. A tax receipt will be issued for donations over $10.
We have a wide variety of activities and projects for you to become involved in.
Our work at the Preserve has been generously supported by many partners and sponsors. Here is the current list:
The Toronto Parks and Trees Foundation

The Ontario Trillium Foundation

City of Toronto, Culture Division

City of Toronto, Forestry

City of Toronto, Parks and Recreation

Friends of the Don East

Toronto East Rotary Club

Urban Forest Associates Inc.
A complete list of groups, partners and funders who have worked with us over the last ten years is available here.