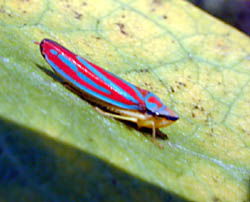 Scarlet-and-green Leafhopper
(Graphocephala coccinea)
Description: Streamlined leafhopper with a pointed head. Wings are bright red with blue (or green) stripes, giving a very striking appearance. Feeds by sucking out plant juices. When disturbed, it is capable of "hopping" 50 cm. or more.
Habitat: Found on wildflowers in meadows and gardens.
Length: 9 mm
Adults: June - October