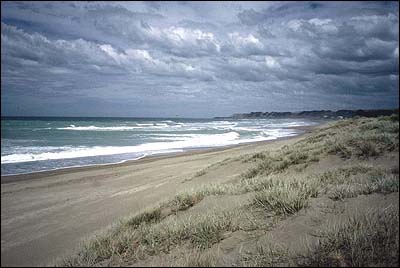 Riversdale
Riversdale is an excellent locality for watching shorebirds, and seabirds. The beach which is at least 3 kms long is open, sandy and exposed. There are rocks at either end of the beach and here local fishermen set pots for crayfish and dive for paua.
Birds to look for:
Red-billed Gull, Black-backed Gull, White-Fronted Tern, Black Shag, Little Shag, Variable Oystercatcher, Banded Dotterel, Pied Stilt, Caspian Tern, Australasian Gannet (off-shore), and occasionally Black-fronted Tern and White-faced Heron.
How to get there
From Highway 2 in Masterton approaching from the south take the Te Ore Ore Road on your right immediately after you have crossed the Waipoua River bridge. Approaching from the north the Te Ore Ore Road is the fifth street on your left after entering the town.
Continue east along Te Ore Ore Road passing the hospital and shortly after Henley Lake both on your right. After about 24 kms through easy rolling farm land, take the right hand fork at Blairlogie. This road takes you through a lot of young Pinus radiata forests and after 31 kms you arrive at Riversdale Beach.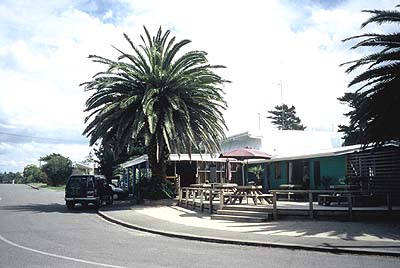 Riversdale Beach Cafe
Tourism
Riversdale is a popular holiday resort which now has quite a substantial permanent population. There is a convenience store and snack bar open year-round, a golf course, camping ground and public toilets. Some commercial fishermen use the beach as their base and some of these can be chartered for fishing trips. These could easily be combined with seabird viewing - enquire at the shop.
For more tourist information on this region, please check the Tourism Wairarapa Web site (www.wairarapanz.com).