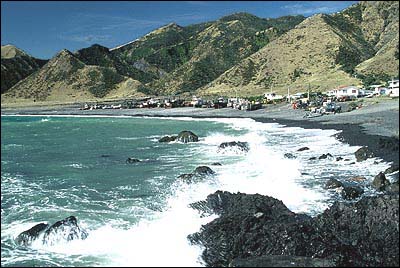 Ngawi
Ngawi is a small fishing village perched on the southern tip of the North Island. There is no protected harbour here, and the fishing boats are launched directly into the surf from their trailers with the help of some old, rusty tractors.
Cape Palliser, dominated by its lighthouse (reached by a climb of 250 steps or about 60 metres), is a further 5 kms on from Ngawi. The rocky coast here is home to a large breeding colony of Fur Seals and these are readily seen basking on the rocks or swimming in the surf.
Birds to look for:
This is the place to do some seabird viewing. Check with the local commercial fishermen about the possibility of a charter trip. If you can get offshore about 5 kms, you have a good chance at seeing Royal Albatross, Fluttering Shearwater, Flesh-footed Shearwater, Sooty Shearwater, Giant Petrel, Australasian Gannet and mollymawk species.
Stay on-shore and watch Black-backed Gull, Red-billed Gull, Caspian Tern, White-Fronted Tern, Black Shag, Banded Dotterel, Pied Stilt, Royal Albatross, Skylark, New Zealand Pipit and occasionally you may see Turnstone out on the wave platforms.
How to get there
From Highway 2 approaching from the north take a half left turn into No 1 Line about 1 km short of the Tauherenikau Hotel (also known as "The Tin Hut") and continue on for about 4 kms when you will cross the main Featherston-Martinborough Road and follow in direction marked Lake Ferry. From the south take a half right turn from Highway 2 in Featherston onto main Martinborough Road. Six kms further on turn south (take right hand turn) into Martinborough-Lake Ferry road. About 5 km south of Pirinoa, the road forks. Take the left fork and travel south-east along the scenic coast road about 30 km to Ngawi.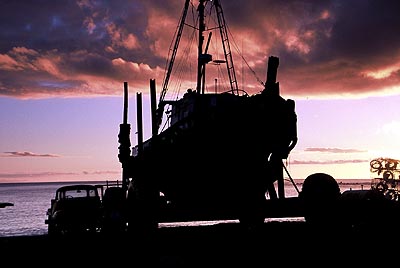 Fishing Boat hauled out.
Tourism
Refreshments and a comfort stop can be obtained here at the "Top House Tearooms" where you are able to enjoy wonderful views while you enjoy your refreshments. A visit to the Lighthouse is a must.
For more tourist information on this region, please check the Tourism Wairarapa Web site (www.wairarapanz.com).