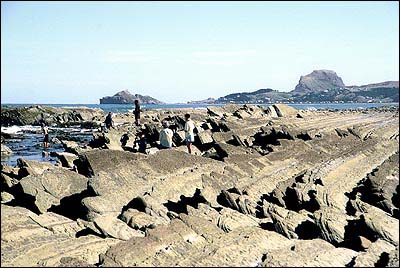 Mataikona Beach at low tide (Castlepoint in background).
If you take the road north from Whakataki you will follow the dramatic, rocky windswept coastline to the mouth of the Mataikona River. At low tide the tilted rock strata in parallel lines emerging almost vertically out of the sea looks most spectacular. The beach is mostly rocky with a few sandy stretches and a large area of sand at the river mouth. Rock pools are a feature, and should be scanned for shags, White-faced Heron and Kingfisher.
This coast has been a traditional seafood-gathering area for Maori. Fire sites and shell deposits exposed by wind erosion in the sand dunes indicate old camp sites and middens. Egg-shell fragments of extinct Moa can be picked up on the surface in the dunes at these sites.
Birds to look for:
The rocky beaches here provide the best opportunities to see Reef Heron anywhere in the Wairarapa. Also look for Red-billed Gull, Black-backed Gull, White-Fronted Tern, Caspian Tern, Black Shag, Little Shag, Variable Oystercatcher, Australasian Gannet (off-shore), Kingfisher (feeding in rock pools in winter) and Californian Quail.
At the Mataikona River mouth, look for: Banded Dotterel, Black-fronted Dotterel and Spur-winged Plover. Blue Penguin nests around coast, often under houses.
In the forested hills behind the beach look for: Tui, Pied Fantail, Grey Warbler, Silvereye, Australasian Harrier and Australian Magpie.
Around road and houses:House Sparrow, Starling, Yellowhammer, Skylark and Welcome Swallow.
How to get there
From Highway 2 in Masterton approaching from the south take the Te Ore Ore Road on your right immediately after you have crossed the Waipoua River bridge. Approaching from the north the Te Ore Ore Road is the fifth street on your left after entering the town.
Continue east along Te Ore Ore Road passing the hospital and shortly after Henley Lake both on your right. After about 20 kms through easy rolling farm land, take the left hand fork to Castlepoint Road. Continue through the hamlet of Tinui until you reach Whakataki. Here, take the left (north) road to Mataikona. Apart from the sealed first two kilometres it is gravel road - quite safe but caution should be exercised on the narrow blind corners.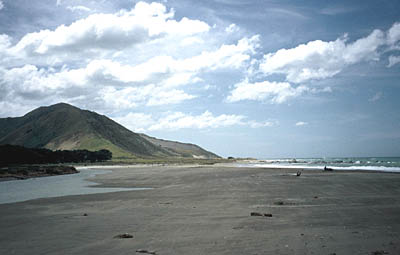 River mouth at Mataikona
Tourism
Holiday homes are rapidly increasing in number but as yet no shops or public toilet facilities are available. Holiday makers put out craypots, dive for paua and surf cast along the beach and at the river mouth.
For more tourist information on this region, please check the Tourism Wairarapa Web site (www.wairarapanz.com).