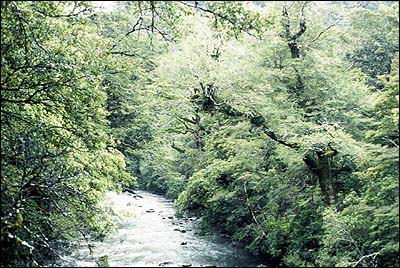 Holdsworth Lodge
This is perhaps the main gateway to the Tararua Forest Park with tracks leading directly to Powell Hut and Holdsworth summit (1470 metres) and beyond. The forest is primarily Beech giving way to wonderful alpine meadows above the "bushline".
There are a number of easy and interesting walks. All tracks are good for bird watching but remember birds are less likely to be seen or heard in the heat of the day. Squeaking some polystyrene on a "licked" glass bottle is a good way of attracting them.
Donnelly Flat is a 30 minute easy walk and the track is wheel chair friendly. Holdsworth Lookout Track is another 30 minute but a steep climb to a good viewing point high above the Lodge area. The Atiwhakatu Valley Track follows the course of the Atiwhakatu Stream and the circuit takes two hours.
Birds to look for:
Pied Fantail, Grey Warbler, Whitehead, Tomtit, Silvereye, Tui, Bellbird (uncommon), New Zealand Pigeon, Rifleman, Eastern Rosella, Chaffinch, Blackbird, Song Thrush, Dunnock, Kingfisher and Australasian Harrier. Red-crowned Parakeet and Kaka are more likely to be heard than seen.
How to get there
Coming from the south at about 9kms from Carterton take the Norfolk Road turn off on your left at the Jukon Nisshu Timber Mill. Approaching from the north Norfolk Road corner is 1 km south of the Waingawa River bridge which is on southern approach to Masterton. Follow Norfolk road for 15kms (the last 2 kms are unsealed but quite good) and you will arrive at Holdsworth Lodge parking area. From here well marked tracks lead into the bush.
Tourism
Picnic and camping facilities are available at the Holdsworth Lodge. For more details, phone 06 378 9163.
The approach to Holdsworth can be interesting in itself. On the road up from Highway 2 you will encounter a number of artists including a potter and a basket maker. Watch for a Lavender Farm, and as you follow the Atiwhakatu Stream you come to Riverleigh Lodge where in the riverside gardens you and your family can meet and feed a variety of friendly animals and birds - great fun for children.
For more tourist information on this region, please check the Tourism Wairarapa Web site (www.wairarapanz.com).