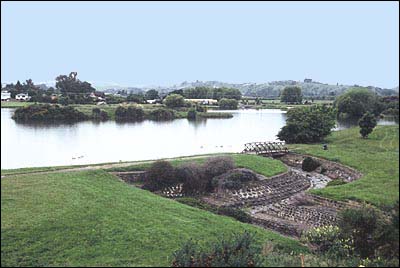 Henley Lake
The origins of the artificial Henley Lake began over half a century ago with a vision by a local lawyer, Henry Major. He along with a group of other locals decided the land alongside the Ruamahanga River would be ideal for a lake. After many delays this came to fruition in 1987 and was developed under this group of citizens - the Henley Lake Trust. The surrounding grounds were landscaped, thousands of trees planted and Rainbow Trout and Perch introduced into the lake itself.
In addition to open water, the area has a wooded wetland, and muddy shorelines ideal for waders. Henley Lake may have the highest bird diversity in the region.
Birds to look for:
Black Swan, Canada Goose, Australian Coot, New Zealand Dabchick, Black Shag, Little Shag, Little Black Shag (occasionally), Mallard, New Zealand Scaup, Australasian Shoveler, Grey Teal, Paradise Shelduck, Welcome Swallow, Black-fronted Dotterel (especially along the concrete lap-strips), Spur-winged Plover, Pukeko, White-faced Heron, Kingfisher, Black-billed Gull, Black-backed Gull, Black Swan. Rare visitors include Bar-tailed Godwit, Sharp-tailed Sandpiper, Bittern, White Heron, and Caspian Tern.
How to get there
From Highway 2 from the north, turn into Te Ore Ore Road (5th street on your left after entering Masterton). Approaching from the south, the Te Ore Ore turn-off is first on the right after crossing the Waipoua River bridge.
Continue along Te Ore Ore Road for about a kilometre and the lake will come into view on your right hand side just past Hiona Intermediate School. Good roadside parking is available.
Tourism
Henley Lake has now become a major attraction for visitors and locals alike providing recreation in many forms. Rainbow trout are introduced regularly each year and it has become a popular fishing spot with anglers both young and old. Kayaking and windsurfing are carried out. Radio controlled sailing boat enthusiasts regularly meet and compete around a marked course.
In January each year large crowds are attracted to the Dragon Boat Festival. In March Henley Lake is host to an international Hot Air Balloon Festival with about 30 highly colourful balloons from many parts of the world in action.
Electrically heated barbeques have recently been installed and free for all to use at any time. To the south of the main lake, the wooded wetland area provides good well-shaded picnic spots in the hot weather. There is a well-formed walking track around the main lake which takes about 20 minutes to circumnavigate.
For more tourist information on this region, please check the Tourism Wairarapa Web site (www.wairarapanz.com).