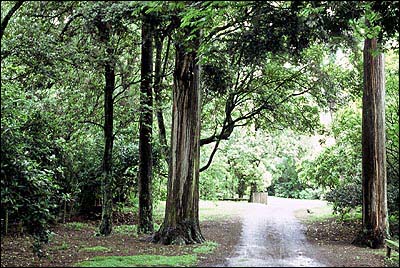 Greytown Park
Greytown is New Zealand's first planned inland town, established in 1853 from land purchased by Governor Grey from local Maori. The oldest town in the Wairarapa has retained its delightful colonial village character with New Zealand's most complete main street of wooden Victorian buildings.
The Greytown Park consists of native and exotic bush, playing fields and camping ground. It provides a good picnic area and an opportunity to see most of our urban birds.
Birds to look for:
Look for native species such as Silvereye, Pied Fantail, Grey Warbler, Tui and New Zealand Pigeon. The New Zealand Falcon and Kaka are sometimes seen here. Introduced species include Eastern Rosella, House Sparrow, Goldfinch, Greenfinch, Chaffinch, Redpoll, Dunnock, Blackbird, Song Thrush and Australian Magpie.
How to get there
Highway 2 runs through the main street of Greytown and the Park is accessed at its northern end by turning west into Kuratawhiti Street. Approximately 0.7 km along this is the Park on your right hand side with street parking available close to the entrance.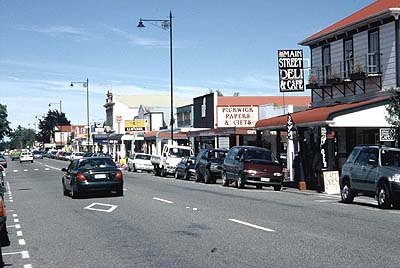 Greytown's Main Street
Tourism
Over the last decade, Greytown has become a mecca for visitors to enjoy a quiet weekend "get away". Several cafes provide a range and variety of cuisine. There is ample accomodation in local B & B's and homestays. Accomodation ranges from budget to luxury.
Berry fruits in season, pip and stone fruits are readily available in the orchards; "pick your own" being an attractive option in some apple orchards. Cobblestones Museum has old buildings and equipment from the early settlers era, while Papawai Marae, site of New Zealand's first Maori parliament and the spectacular Waiohine Gorge with its very long swing bridge are just some of the attractions of this township and environs.
For more tourist information on this region, please check the Tourism Wairarapa Web site (www.wairarapanz.com).