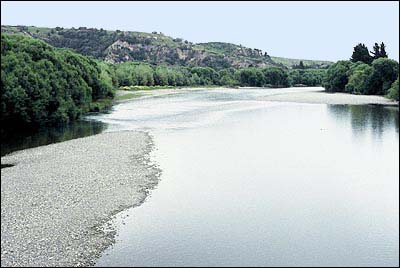 Gladstone Bridge
At Gladstone, in its traverse to the sea, the Ruamahanga River has become wide and relatively languid. Exploring here means hiking the shingle and then periodically "river-hopping" to cross the channel to the next shingle bed. Or, you can stick to the river banks and brave the gorse and dense willows.
Older sections of riverbed which are no longer subject to regular flooding become revegetated gradually and here you will find some of the birds of the forest and open country. The dense thickets along the elevated river banks may be tricky to traverse, but they can reward you with good views of birds that more often associate with forests.
Birds to look for:
On or near the river look for Black-fronted Dotterel (this is one of best sites in New Zealand for seeing them), Banded Dotterel, Spur-winged Plover, Pied Stilt, Black Shag, Black-backed Gull, Black-billed Gull (occasionally), Welcome Swallow, Mallard, Paradise Shelduck and Californian Quail (in broom, blackberry and willows along river edge).
In the farmland adjacent, watch for Skylark, Australasian Harrier, Yellowhammer, Australian Magpie and Rock Pigeon.
How to get there
Approaching from the south from Highway 2 after leaving Carterton turn right into Somerset Road Continue on this for 5.5 kms till it ends at a T junction with Bristol Road. Turn left in direction marked Gladstone. Continue north on this road taking the first turn again on your right marked Gladstone Road/Vineyards. Approaching from the north from Highway 2 turn left into the East Taratahi Road which is 2.8 kms from the Waingawa River bridge. Continue on this for 5 kms till you reach Bristol Road where you turn right in direction marked Gladstone. A further 4 kms on you come to the road on your left marked Gladstone Road/Vineyards.
Follow Gladstone Road passing Gladstone and Fairmont Vineyards and further on on your right the Hurunui-O-Ranghi Marae. At 5.8 kms from turn off you cross a small bridge and just before coming to main bridge turn into an open gateway on your left. This gravel road runs down to a Council gravel storage area and then follows the Ruamahanga River upstream for some distance. Access to the wide gravel river bed is possible at several points through the willows.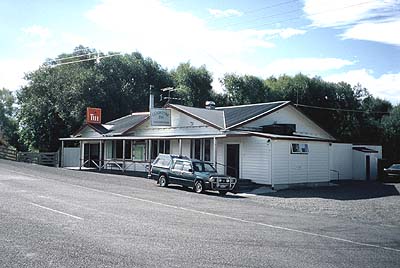 Gladstone Hotel
Tourism
This rural district to the east of Carterton where cattle and sheep have traditionally been farmed is recently developing a real sense of community with its annual "Scarecrow Country Festival" held for a month in Oct-Nov. Follow the Scarecrow Trail from Wardell's Bridge driving south towards Martinborough and you will encounter some 200 scarecrows - all of which you may enjoy from the comfort of your car.
Venture into Caveland's Road and you will come upon Saratoga Goat Farm where Mike and Dee Lever (Phone 06 372 7730) produce award winning organic hand crafted goat cheeses. Phone before you come, arrange a visit and taste and perhaps buy their wares.
On the Gladstone Road on your way to the river you will come upon Gladstone Vineyard where tasting, sales and tours of the vineyard are available. Live open air theatre happens here each year in February. "Shakespeare in the Vineyard" In 2002, Romeo and Juliet will be performed by the Victoria University Company. For more, check out the Web site: www.gladstone.co.nz
Just over the eastern end of the bridge is the Gladstone Inn, a delightful small country pub with good bar and dining facilities.
For more tourist information on this region, please check the Tourism Wairarapa Web site (www.wairarapanz.com).