Castlepoint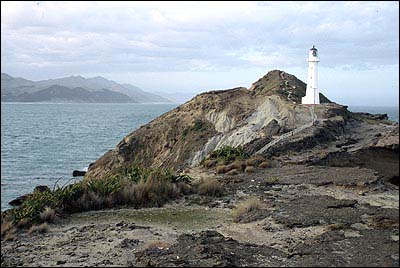 Castlepoint Lighthouse
This with Castle Rock was noted and named by Captain Cook and is Wairarapa's most picturesque coastal resort. The lighthouse (now automated) stands 170 feet above sea level and with its 74-foot tower is one of the highest in New Zealand. Its three quick flashes every 45 seconds is visible for 19 miles. There are several local walks. One across the board walk up to the light house. At low tide when the sea is calm a large cave may explored in limestone beneath the lighthouse bluff. Another track, from St. Peter by the Sea Church leads above sand dunes overlooking the lagoon and continuing south you can climb to the top of 526 foot high Castle Rock and then savour magnificent views up and down the coast.
Birds to look for:
Red-billed Gull, Black-backed Gull, White-Fronted Tern, Caspian Tern, Variable Oystercatcher, and Australasian Gannet (off-shore). On part of the reef across the lagoon Red-billed Gull and White-Fronted Tern nest in the summer.
How to get there
From Highway 2 in Masterton approaching from the south take the Te Ore Ore Road on your right immediately after you have crossed the Waipoua River bridge. Approaching from the north the Te Ore Ore Road is the fifth street on your left after entering the town.
Continue east along Te Ore Ore Road passing the hospital and shortly after Henley Lake both on your right. After about 20 kms through easy rolling farm land, take the left hand fork to Castlepoint Road. Continue through the hamlet of Tinui until you reach Whakataki. Here, take the right (south) road to Castlepoint.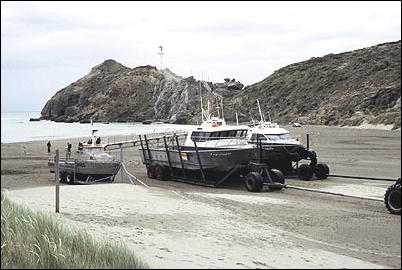 Castlepoint Fishing Boats
Tourism
There is good safe swimming on the sandy beach in front of the small settlement and also in the sheltered lagoon. There is good deep water fishing from the reef on which lighthouse stands but if much of a sea is running it can be hazardous and extreme caution should be exercised. Surf casting can be safely carried out from beaches. Surfing is popular.
In March the Castlepoint Races are an annual event with the horse racing on the sand along front of settlement held in a truly carnival atmosphere. A lot of commercial fishermen use Castlepoint as their base and if you enquire at the shop a boat may be chartered for fishing or seabird watching.
For more tourist information on this region, please check the Tourism Wairarapa Web site (www.wairarapanz.com).