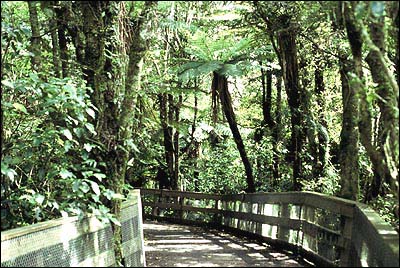 Mt. Bruce trail
The Mt. Bruce Forest Reserve is the last remaining remnant of the 70-mile Bush - a tract of heavy forest which originally extended from just north of Masterton to Norsewood. Most of the forest was felled and cleared by Scandinavian settlers in the 1800s. The distinctive tree species here are Rimu, Rata, Kamahi, and Kahikatea. The extinct Huia once lived in these forests.
The National Wildlife Centre is a breeding facility for endangered birds and is run in partnership by a board of Trustees who look after the educational and visitor side of it and the Department of Conservation who look after the birds and the bush. It was originally established here in 1963 in an attempt to breed the highly endangered Takahe which had been rediscovered in 1948 in an isolated area in Fiordland. Takahe breeding was never particularly successful but over the years many problems associated with their breeding were discovered and overcome and now in other places in New Zealand more Takahe are being raised. Kokako, Hihi, North Island Saddleback, Campbell Island Teal, Black Stilt, Shore Plover and Kaka have all bred successfully in captivity.
For more information on the history on the Centre and the flora and fauna of the Forest Reserve, read: Scadden, C. 2000. Mount Bruce National Wildlife Centre, National Wildlife Centre Trust, Wairarapa. 32 pages.
Birds to look for:
From the tracks in the Forest Reserve watch for Pied Fantail (including the black type), Grey Warbler, Tomtit, Tui, Silvereye, New Zealand Pigeon, Rifleman, Bellbird, Eastern Rosella, and Shining Cuckoo (heard more often than seen, from September to March).
In captivity, the following species can be seen: Brown Kiwi, Takahe, Hihi, Kokako, Kaka, Campbell Island Teal and Shore Plover (these are usually off limits to visitors but video of their activity may be viewed close to the Campbell Island Teal enclosure). During the breeding season, nest activities of selected species can be watched live on video as well.
Tourism
The Centre houses extensive static and interactive displays and an audio-visual programme is played at 30 minute intervals. There is a good cafeteria which only sells homemade food where refreshments and light meals may be had. Adjacent to reception is a good gift shop with books and nature prints. Admission is free for children and adults pay $8 dollars. Included with admission is a trail map to enclosures and viewing spots.
At 3pm each day the free-flying Kaka (up to 30) fly in for feeding. From the bridge close to Wetland area enormous Brown Trout and eels can be viewed. The best time is around 1.30 pm daily when they are fed.
For more tourist information on this region, please check the Tourism Wairarapa Web site (www.wairarapanz.com).