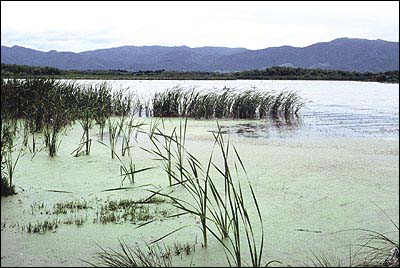 Matthews Lagoon
Boggy Pond and Matthew's Lagoon are adjacent to one another and accessed from the same side road. The willows around them and the raupo in some places has become so dense it can be difficult to see the open water but with some effort this can be achieved.
Birds to look for:
Two species worth noting here are New Zealand Dabchick and Little Black Shag, the latter together with Black Shag nests in willows at the southern end of Matthews Lagoon. You will need binoculars to see the nesting colony nests high in the willows. Spotless Crake are known to inhabit raupo beds but will usually only be heard and sometimes seen if the appropriate tape-recorded calls are played in or adjacent to the bird's territory. In the breeding season (September to November) the "booming" calls of Bittern may be heard and with luck you may see one. Other species to look for include Little Shag, Black Swan, Mallard, Pukeko, Australasian Shoveler and Grey Teal.
How to get there
From Highway 2 approaching from the north take a half left turn into No 1 Line about 1 km short of the Tauherenikau Hotel (also known as "The Tin Hut") and continue on for about 4 kms when you will cross the main Featherston-Martinborough Road and follow in direction marked Lake Ferry. From the south take a half right turn from Highway 2 in Featherston onto main Martinborough Road. Six kms further on take right hand turn into Lake Ferry road.
Continue south on Lake Ferry Road past Kahutara School to Parera Road and turn right into the gravelled road. Continue down Parera Road for about 1 km and on your left you will see a farm gate close to a large eucalyptus tree. From this point you will see a gap in the trees and a view of the open water of Matthews Lagoon. Park your car and walk down through the grass paddock, through a second gate and onto the water's edge.
For Boggy Pond, continue another 1.3 kms along Parera Road until the notice for "Boggy Pond". A well-defined track skirts the pond but because of the willows good views are hard to obtain.