From the forest-clad Tararua Ranges on the western edge, down the mighty Ruamahanga river flowing to the lake from which the region takes it name, then finally to the rugged coast, the Wairarapa has a diverse range of habitats for birds. Now, a birdwatching guide for the non-expert on where to go and what to expect in the region.

Where To See Birds
Local naturalists have identified 18 of the best places in the Wairarapa to see some of the region's most distinctive birds.

What To Look For
Illustrated guides and checklists for each locality show you exactly what you can expect to see. The stunning photos are by noted local and national nature photographers.

How To Get There
Detailed map and directions show you exactly how to get to each place. Some basic tourist information, and links for more help.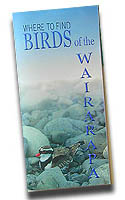 New! Pocket Guide Book
Just published (March 2004). This print version of the guide is available for $12 (includes postage). Please send Money Order to:
OSNZ (Wairarapa), c/o T. Dennison, 129 Renall Street, Masterton, New Zealand.
Now, let's choose a place to visit.