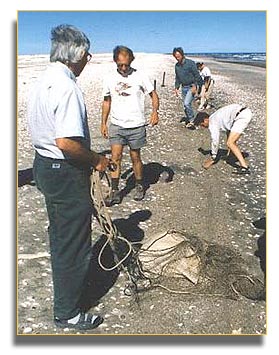 Setting up a cannon net in southern Argentina.
Photo: P. Gonzales

WASA Members
WASA team members are dedicated to the study and conservation of shorebirds and their habitats. Scientists, researchers, wildlife managers, government officials and naturalists, among many others, are involved in this shorebird preservation network. All participants are dedicated in their efforts of broadening and strengthening the knowledge base regarding the migration of shorebirds along the Western Atlantic Flyway. The work of these individuals is crucial to the protection of migratory birds and their seasonally patterned flights. WASA's research is also important to current work aimed at preserving the stopover points that are used by these birds year after year as resting and feeding spots as they make their trans-continental treks.

The inaugural research project for WASA is the International Banding Project which is being led by Professor Allan Baker, Canada and Patricia Gonzales, Argentina. This project is colour-banding Red Knots, Sanderlings and Ruddy Turnstones in an effort to establish their population sizes and recruitment rates.