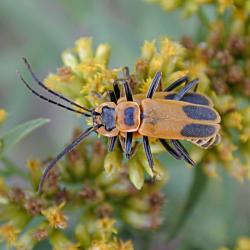 Pennsylvania Leather-wing
(Chauliognathus pennsylvanicus)
Description: Orange beetle, with two prominent brown "eyes" on the wing covers (elytra). One of the commonest types of Soldier Beetle of which there are several hundred species. Adults feed on pollen and nectar of Goldenrod flowers. Larvae are predatory on other insects and considered useful as biological control for grasshoppers.
Habitat: Goldenrod flowers in fields and meadows.
Length: 25 mm
Adults: June - October